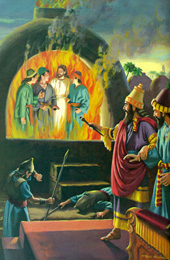 My pastor started off this morning's Sunday service with an introduction to the story of Shadrach, Meshach and Abednego; the three men that refused to bow to King
Nebuchadnezzar (Neb-a-cun-nez-er) and were thrown into the fiery furnace. Instead of just reading the story straight through from scripture, my pastor invited the drama team to come on stage and give a visual account while he narrated. As three teens walked on stage dressed in ancient garb, I assumed we were about to watch a serious re-enactment of the events from Daniel chapter 3. I knew something was amiss, however, when King Nebuchadnezzar marched into the sanctuary to an all too familiar Star Wars theme. (I will definitely e-mail and post the sermon's online link as soon as its posted!)
The team was absolutely hilarious in their portrayal of the story. From the King messing up the names and calling the men something along the lines of Shoe Rack, Radio Shack, and Tobacco to the fiery furnace that ended up in the Baptistry (all in good fun I assure you!), the drama team had the entire congregation's full attention! Sure, it had its pop culture thrown in here and there, but the main theme of the story was there. Shadrach, Meshach, and Abednego refused to deny the living God and bow to King Nebuchadnezzar. They were thrown into the fiery furnace, but instead of burning, they were kept from harm and joined by a fourth person (the Son of God). In the end, King Nebuchadnezzar threw out the decree to bow to him and insisted that all follow the true living God.
I love it when we can throw in some humor and put a smile on the face of others. We go to church to learn and grow, but must we look so glum about it? I can assure you, this morning's church congregation was all smiles and laughter as well as all ears to the important message of God's presence in the midst of our trials and sufferings.
Humor definitely has a place and time and when used in a meaningful way, it has quite an effect on the audience. In fact, describing this humorous re-enactment was a great way to re-tell the story to my family. My twelve year old niece was cracking up! Try to find some ways to add a little God pleasing humor into the week and see what happens. Who knows, we might just put a smile on someone's face and a word of encouragement in their heart!